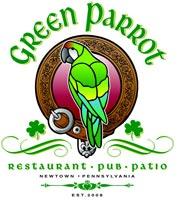 Monday: Closed
Tuesday: Kitchen: 4pm - 9pm, Bar: 4pm - 12am
Wednesday: Kitchen: 12pm - 9pm, Bar: 12pm - 12am
Thursday: Kitchen: 12pm - 9pm, Bar: 12pm - 12am
Friday: Kitchen: 12pm - 10pm, Bar: 12pm - 2am
Saturday: Kitchen: 12pm - 10pm, Bar: 12pm - 2am
Sunday: Kitchen: 12pm - 8pm, Bar: 12pm - 12am
Welcome to The Green Parrot Restaurant & Pub!
Located in historic Newtown, Pennsylvania, in beautiful Bucks County.
With our inviting, friendly atmosphere, and delicious pub-style cuisine, The Green Parrot has fast become a favorite restaurant destination for both locals and visitors alike. Evoking the feel of the original Green Parrot Inn, a popular Newtown tavern from the early 1900's, the restaurant's surroundings are warm and welcoming. High ceilings, rich woodwork, and deep colors invite our diners to experience a unique, relaxing meal served by an attentive staff. The pub, with 19 high definition televisions for ultimate sports watching, great happy hour specials, and hosts friends for a casual evening out any day of the week, while the restaurant offers delicious specials.